Wedding Services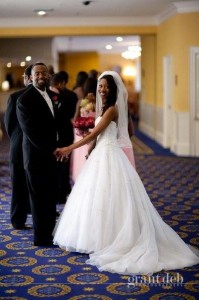 Poco Productions has been shooting wedding videos since 1997 back in the Hi8 era of video production. Since then we have progressed to digital video (minidv), and now we shoot weddings in HD.
Our philosophy is to shoot full productions videos, ie, 3 video cameras for the wedding ceremony, wireless microphones near the bride and groom, music videos before and after, interviews, & full wedding reception coverage. The finale is a 2-3 minute music video of the events of that day. This video then airs on youtube for faraway friends to see. The video usually runs one hour, and includes 3 DVDs. You might be asking, Why hire a professional videographer? We know you only have one chance to get it right. Randy has a background in news videography and has learned the skill of anticipation, which is best described as knowing when something is going to happen before it happens. Randy knows where to be, what and who to shoot, and anticipate what will come next.
At heart, Randy is a visual storyteller who walks around looking for unique angles, a cute little girl twirling, or a subtle glance of a parent. These shots edited together, and accompanied by appropriate music, will captivate the viewer from the first moments of the video until the end.The total effect is an entertaining video production that you and your friends will enjoy repeatedly. Randy is a digital artist who uses his creativity to weave a story of your lives.
We at Poco Productions use a candid or documentary style of shooting which allows us to be unobtrusive; a big word meaning we'll stay out of the way and in the background. One videographer was told by the father of the bride, "You were there, but you weren't."
Today is the yesterday you'll want to remember tomorrow, and now is the time to do it. We're into sharing the celebrations of your life, and in making memories that you'll cherish for many years. Please do call or email , We'd love to meet with you and discuss the many options that are available.
Lastly, I came across an article titled: What 98% of Brides Regret She addresses the issue of missing out on that one chance to do it right. I agree with her conclusions. Please read this article on the importance of Wedding Videos.